By Renee Maltezou and John O'Donnell
ATHENS/FRANKFURT, July 6 (Reuters) – Greece's outspoken finance minister resigned on Monday, removing a major obstacle to any deal to keep Athens in the euro zone after Greeks voted resoundingly to back the government in rejecting the austerity terms of a bailout.
Yanis Varoufakis, an avowed "erratic Marxist" economist who infuriated euro zone partners with his unconventional style and hectoring lectures, had campaigned for Sunday's sweeping 'No' vote, accusing Greece' creditors of "terrorism."
"I was made aware of a certain 'preference' by some Eurogroup participants, and assorted 'partners', for my… 'absence' from its meetings; an idea that the Prime Minister judged to be potentially helpful to him in reaching an agreement," Varoufakis said in a statement.
His sacrifice, after promising Greeks he would win a better deal within a day of their overwhelming referendum vote, suggested leftist Prime Minister Alexis Tsipras is determined to try to reach a last-ditch compromise with European leaders.
Greece's chief negotiator in aid talks with international creditors, Euclid Tsakalotos, a soft-spoken academic economist, is the frontrunner to become finance minister, a senior government official said. Tsakalotos had already taken over a prominent role with lenders after Varoufakis was sidelined from the talks in April.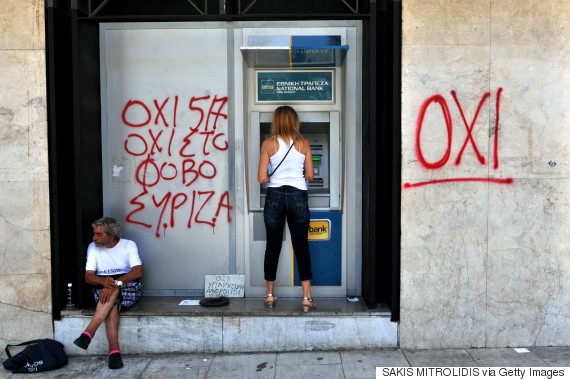 A woman withdraws money from an ATM machine next to a beggar and a graffiti reading' No to fear' in Thessaloniki on July 6, 2015. (SAKIS MITROLIDIS/AFP/Getty Images)
Austrian Finance Minister Hans Joerg Schelling, saying out loud what many peers have whispered privately, said he hoped talks with Greece would become easier with Varoufakis gone.
To win any new deal, Greece will have to overcome the distrust of partners, above all Germany, Greece's biggest creditor and the EU's biggest economy, where public opinion has hardened in favor of cutting Greece loose from the euro.
Varoufakis had a particularly acrimonious relationship with Germany's Finance Minister Wolfgang Schaeuble. A German government spokesman, asked about the departure of Varoufakis, told reporters policies mattered more than people.
The door to negotiations with Greece on a new aid program was open but the conditions were not yet met until there were new proposals from Athens, spokesman Steffen Seibert said.
DEFIANCE
While jubilant Greeks celebrated their national gesture of defiance late into the night, there was gloom in Brussels.
European Commission Vice-President Valdis Dombrovskis told a news conference there was no easy way out of the crisis and the referendum result had widened the gap between Greece and other euro zone countries.
Greek political leaders met at the president's residence at 10 a.m. (0700 GMT) as a strengthened Tsipras sought to build a national consensus behind his negotiating position.
Tsipras has spoken by telephone to French President Francois Hollande, who is trying to broker an agreement ahead of an emergency euro zone summit on Tuesday. Hollande was due to meet later on Monday with Germany's Chancellor Angela Merkel to seek a joint response from the two biggest euro zone economies.
While France and Italy have emphasized the importance of more talks, German public opinion is running out of patience. Merkel's vice-chancellor, Social Democrat Sigmar Gabriel, said on Sunday that Tsipras had torn down the last bridges of compromise with the euro zone.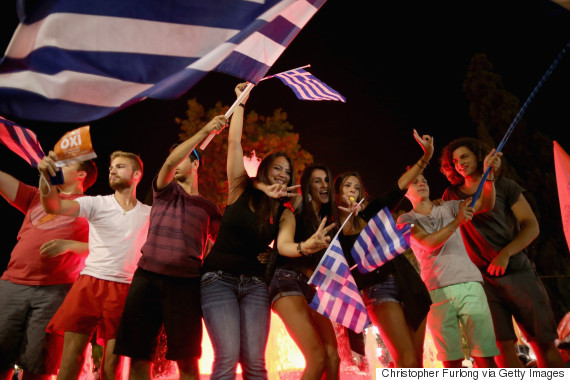 People celebrate in front of the Greek parliament as the people of Greece reject the debt bailout by creditors on July 6, 2015 in Athens, Greece. (Christopher Furlong/Getty Images)
A German Finance Ministry spokesman pushed aside Greek demands for a big debt write-down, as the International Monetary Fund said last week may be necessary. He said the IMF was promoting its traditional stance but Europe had opted for solutions other than debt cuts to put countries back on track.
With banks shuttered, cash machines running out of banknotes and sympathy for Athens among EU governments close to exhausted, Greece's fate is largely in the hands of Merkel and the European Central Bank.
The ECB's policymaking governing council was starting a conference call at 1000 GMT to decide how long to go on keeping Greek banks afloat after the overwhelming rejection of bailout terms that the central bank had helped to shape.
Several people familiar with ECB policy said the central bank would reject a Greek government request to raise the cap on emergency liquidity assistance provided by the Greek central bank and leave the limit unchanged, slowly tightening the noose on the banks but giving them a few more days' air.
Greek bankers were expected to meet the central bank later in the day, banking sources said, amid expectations that the government will have to issue a new decree extending the crippling closure of banks beyond Tuesday.
"BRAVE CHOICE"
After five years of economic crisis and mass unemployment, Greek electors voted 61.3 percent 'No' to the bailout conditions rejected by their radical leftist government, casting Greece into the unknown.
"You made a very brave choice," Tsipras said in a televised address as jubilant supporters thronged Athens' central Syntagma Square to celebrate the act of defiance of Europe's political and financial establishment.
"The mandate you gave me is not the mandate of a rupture with Europe, but a mandate to strengthen our negotiating position to seek a viable solution."
The euro tumbled against the dollar on Asian markets after the setback for Europe's monetary union, and European shares and bonds took a hit when markets opened after the weekend. But the losses were contained and there was no sign of serious contagion to other weaker euro zone sovereigns.
Asian stocks suffered the biggest daily fall in two years, partly because of fears over China's economy, but Varoufakis' departure softened the impact in Europe, maintaining a slender hope of a deal to keep Greece in the euro.
Analysts with several major banks including Citi, Barclay's and J.P. Morgan said a "Grexit" from the euro zone was now their most likely scenario.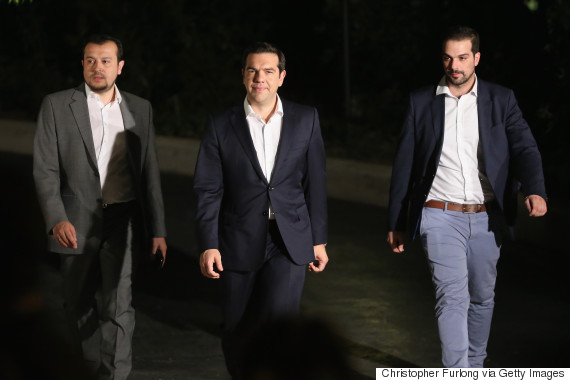 Greek Prime Minister Alexis Tsipras leaves his residence to visit the President of Greece after the people of Greece rejected the debt bailout by creditors on July 6, 2015 in Athens, Greece. (Christopher Furlong/Getty Images)
EU officials said it would be hard to give Greece easier terms, not least because its economy has plunged back into recession since Tsipras' Syriza party won power in January. Public finances were now in a far worse position than when the rejected bailout deal was put together.
But on the streets of Athens, citizens were unrepentant at their defiant vote.
"I voted 'No' to austerity; I want this torture to end," said 42-year-old Katerina Sarri, a mother of two manning a Kiosk in Athens.
"I'm aware that we will suffer for years but I'm still hopeful. I need to know that there is light at the end of tunnel, that the lives of my children will be better," she said. (Additional reporting by; Writing by Paul Taylor; Editing by Peter Graff)
Share +
Athens public transport free for another week http://t.co/KfSiwiWyby pic.twitter.com/eZje4803XV

— Kathimerini English (@ekathimerini) July 6, 2015
Share +
The managing director of the IMF, Christine Lagarde, issued an ultra-short statement on Monday responding to the result of the Greek referendum:
Ms. Christine Lagarde, Managing Director of the International Monetary Fund (IMF), made the following statement today:

"The IMF has taken note of yesterday's referendum held in Greece. We are monitoring the situation closely and stand ready to assist Greece if requested to do so.
Share +
The Guardian profiles Euclid Tsakalotos, Greece's new finance minister.
As the new point man who will coordinate face-to-face contact between Athens and its creditors, Tsakalotos is likely to be methodical, detail-oriented and tenacious. His leftist views, adopted at Oxford where he belonged to the student wing of Greece's euro communist party, were honed in the anti-globalization movement.
Read the full story here.
Share +
Bailout negotiator Euclid Tsakalotos to take over as finance minister #Greece

— Kathimerini English (@ekathimerini) July 6, 2015
Share +
From the Associated Press:
The Kremlin says Russian President Vladimir Putin received a phone call from Greek Prime Minister Alexis Tsipras, whose government is racing against the clock to reach a bailout deal with creditors.

The two leaders discussed the results of Sunday's referendum in Greece and "several questions about the further development of Russian-Greek cooperation," the Kremlin said.

During Monday's call, the Kremlin said Putin "expressed support for the Greek people in overcoming the difficulties facing their country."

The head of VTB, Russia's second-largest state bank, said over the weekend that Russia might be interested in buying Greek assets if they were to be privatized but that direct loans to Greece were unlikely.
Share +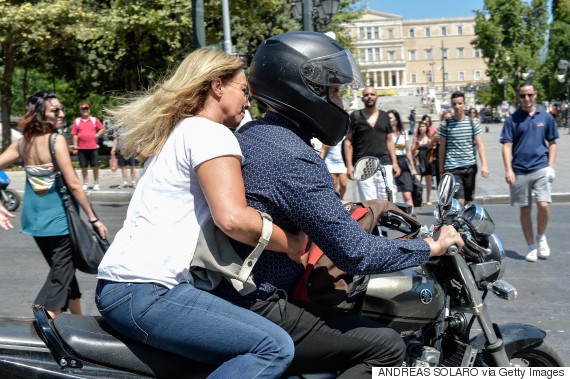 Greece's maverick finance minister Yanis Varoufakis, who announced his surprise resignation leaves the Ministry of Finance with his wife Danai on the back of a motorbike downtown Athens, on July 6 2015. (ANDREAS SOLARO/AFP/Getty Images)
Share +
Lucia Annunziata, Editorial Director of HuffPost Italy, reflects on the victory of the "no" camp:
Even if the referendum, as all of Europe's elites have maintained up until this point, was forced and an irresponsible act, now that it's over at least we can say that it brought about a necessary, definitive clarification of the true mood of the Greek people, the consensus around Alexis Tsipras and, last but not least, on Europe itself.

The crushing "no" vote has the ring of humiliation for everyone who wanted a clash in Europe, convinced they could rein in a riotous nation with a whip and a carrot.
Read the full story here.
Share +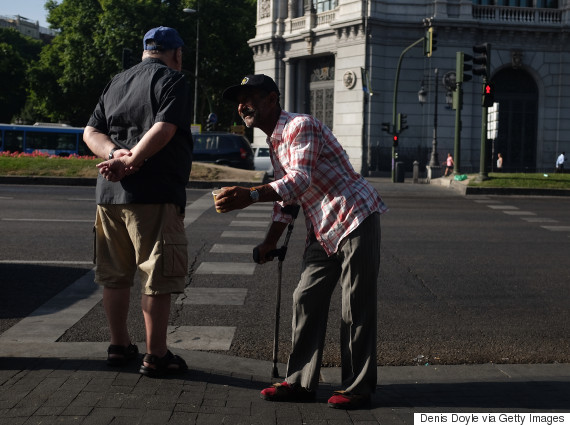 A man begs for money in front of the Bank of Spain (Denis Doyle/Getty Images)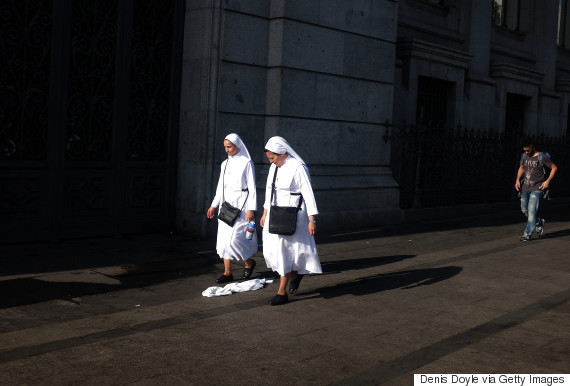 Nuns walk past the Bank of Spain headquarters. (Photo by Denis Doyle/Getty Images)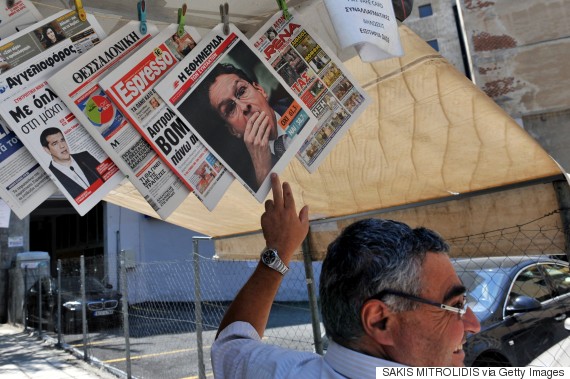 A man reads the fron tpage headlines about the results of Greece's referendum at a kiosk in Thessaloniki on July 6, 2015.(SAKIS MITROLIDIS/AFP/Getty Images)
Share +
The head of the group of eurozone finance ministers said on Monday that keeping Greece in the euro is still the aim.
Reuters reports:
"It doesn't bring us closer to a solution right away. In fact, when proposals are rejected that only makes things more difficult," Eurogroup head Jeroen Dijsselbloem told reporters.

Dijsselbloem said keeping Greece in the euro zone "is still their objective and mine."

Dijsselbloem, who is also Dutch finance minister, said the Dutch government would discuss a Greek request for additional emergency funding under the European Stability Mechanism (ESM).

"We are going to look, step by step, if we can save the process," Dijsselbloem said as he headed into a Dutch government meeting. "At the same time, there is a request for an ESM program."
Share +
Greek Prime Minister Alexis Tsipras spoke to German Chancellor Angela Merkel on Monday. The two agreed that Tsipras would present bailout proposals at a summit of EU leaders to be held on Tuesday, Reuters reports.
UPDATE: Greek PM Tsipras speaks by phone with German Chancellor Merkel, agreed Tsipras to present proposals at Tuesday summit

— Reuters World (@ReutersWorld) July 6, 2015
Share +
Greek finance minister Yanis Varoufakis announced his resignation on Monday. In a blog post, he wrote:
Soon after the announcement of the referendum results, I was made aware of a certain preference by some Eurogroup participants, and assorted 'partners', for my… 'absence' from its meetings; an idea that the Prime Minister judged to be potentially helpful to him in reaching an agreement. For this reason I am leaving the Ministry of Finance today.
Share +
The "No" camp won Greece's referendum with 61.31 percent of the vote, the Associated Press reports. The "Yes" side got 38.69 percent.
More from the AP:
A total of 6.16 million Greeks voted in Sunday's referendum, or 62.5 percent of eligible voters. The poll needed a minimum 40 percent turnout to be valid.
Share +
The president of the eurozone finance ministers' group said on Sunday he regretted the outcome of Greece's referendum.
The Associated Press reports:
The president of the eurozone finance ministers' group, Jeroen Dijsselbloem, calls the outcome of Sunday's referendum "very regrettable for the future of Greece."

The Dutch finance minister has over the past five months of negotiations resisted Greece's attempts to get easier terms for its bailout program. He says that "for the recovery of the Greek economy, difficult measures and reforms are inevitable. We will now wait for the initiatives of the Greek authorities."

He says the 19 finance ministers will discuss the outcome of the Greek referendum on Tuesday, the same day a summit of the eurozone leaders will be held.
Share +
Greece's Editor-at-Large Pavlos Tsimas weighs in on the implications of today's result:
The people of Greece have shown their confidence in this government. The question now is how the government will interpret this and how it will use its victory.

Two different negations lie within the referendum's "no." A "no-no" (no to the proposed bailout deal and no to any deal that Europe might offer Greece today and consequently no to the euro). And a "no-yes" (no to an austerity deal, but yes to the euro, through a fairer deal). Everything points to the fact that this second interpretation of "no" has probably prevailed. Alexis Tsipras's first reaction in his festive speech seems to also adopt this very interpretation. It's a first sign.
Read the full story here.
Share +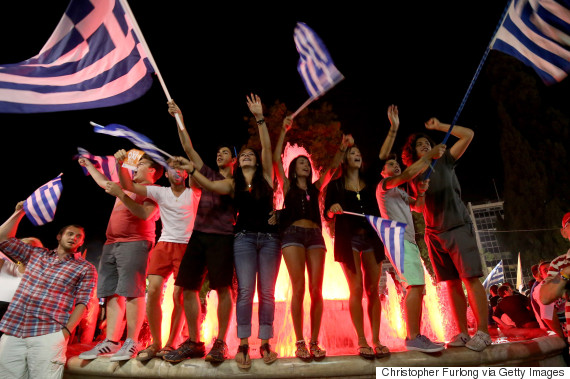 People celebrate in front of the Greek parliament as the people of Greece reject the debt bailout by creditors on July 6, 2015 in Athens, Greece. (Christopher Furlong/Getty Images)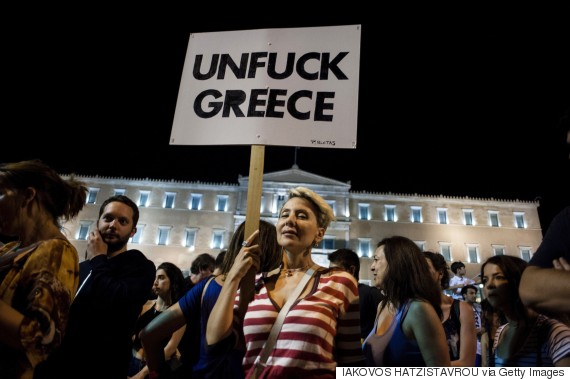 A woman holds a placard as people celebrate in front of the parliament on July 5, 2015 in Athens (IAKOVOS HATZISTAVROU/AFP/Getty Images)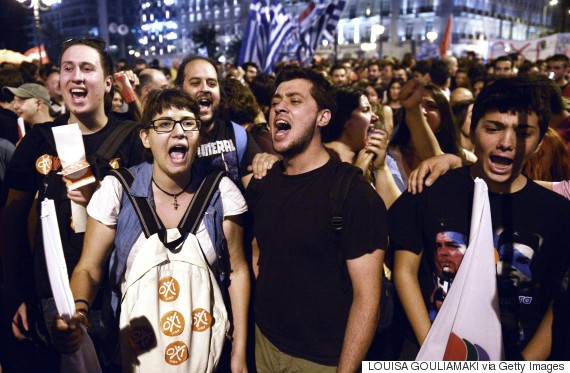 People celebrate in Athens on July 5, 2015. (LOUISA GOULIAMAKI/AFP/Getty Images)
Share +
Ioannis Karamagalis argues in a piece for HuffPost Greece that Sunday's referendum have left Greek politics and society deeply divided.
The referendum, before being conducted, unfortunately released the darkest aspects and features of Greek political socialization. It reinstated divisive reasoning in the public sphere, and divided society into two camps with no diffusion and without any room for common ground.
Read the full blog here.
Share +
Queues forming at cash machines here in Athens, fears banks could run dry by tomorrow #GrReferendum pic.twitter.com/CvobPlu2TB

— Dan Whitehead (@danwnews) July 5, 2015
Share +
Greek news outlet Times of Change reports that a skirmish between police and about 100 protesters broke out around 11.30 pm local time. According to the website, the protesters pelted police with rocks and Molotov cocktails.
Share +
The head of the European Parliament said on Sunday night that European leaders should discuss a humanitarian aid program for Greece.
The Associated Press reports:
Schulz says in a statement that Athens should make "meaningful and constructive proposals" in the coming hours to get the talks with the other 18 eurozone nations going again. He says: "If not we are entering a very difficult and even dramatic time."

Schulz says ordinary citizens, pensioners, sick people or children in kindergarten should not pay a price for the dramatic situation the country is in, which he blamed the Greek government for. He says the country needs a humanitarian program immediately.
Share +
European Council President Jean-Claude Juncker has announced that he will hold a summit on Tuesday to address Greece.
BREAKING: Germany, France call for eurozone summit to discuss Greek financial crisis. (Corrects that Germany, France called for EU summit.)

— The Associated Press (@AP) July 5, 2015
Share +
Huffington Post Greece rounds up some of the best memes and cartoons from the Greek vote. Read it here (in Greek).
#Greece is Grease via @EuroStability
pic.twitter.com/N2MHSV7YIY

— Velina Tchakarova (@vtchakarova) June 10, 2015
Share +
Greek Prime Minister Alexis Tsipras took to Twitter to weigh in on the result of Sunday's referendum:
The Greek people made a historic and brave choice. Their response will alter the existing dialogue in Europe. #Greece #Greferendum

— Alexis Tsipras (@tsipras_eu) July 5, 2015
Share +
Greece's 'No' voters took to Twitter on Sunday to as the results indicate their side has won a decisive victory. Some are asking what the results would have been if fear-inducing elements of the crisis such as bank closures didn't exist:
"With the banks closed and the TV on, still people did not get scared…the 'no' of our lives," @AGiamali wrote.
Με κλειστές τις τράπεζες και ανοιχτά τα κανάλια και πάλι ο κόσμος δεν φοβήθηκε… Τα #OXI της ζωής μας… #Greferendum

— Αναστασία Γιάμαλη (@AGiamali) July 5, 2015
"If the banks WEREN'T closed, what percent would have voted no?" @blacktom1961 asked.
Αν οι τράπεζες ΔΕΝ ήταν κλειστές, τι ποσοστό θα έπαιρνε το #OXI;

— Thomas Mavrofides (@blacktom1961) July 5, 2015
Share +
Greek Prime Minister Alexis Tsipras addressed the nation on Sunday, as referendum results indicated that a "No" vote would win by a large margin. The vote is seen as a victory for Tsipras, who campaigned hard over the last week for citizens to reject the bailout proposal put forward by Greece's creditors.
Tsipras said that Greece will negotiate tomorrow with the goal of restoring the nation's banking system, reports Reuters. He also reaffirmed his stance that the referendum was not about exiting the eurozone but about rejecting the harsh terms of austerity.
"The mandate you have given me is not a mandate against Europe but a mandate to find a sustainable solution," Tsipras said.
Share +
Political scientist at Yale University Stathis Kalyvas had this to say about the celebrations going on in Athens right now:
Big party in Syntagma Square now. Huge hangover to follow

— Stathis Kalyvas (@SKalyvas) July 5, 2015
Share +
BREAKING: Leaders of Germany, France call for an EU summit on Tuesday to discuss Greek financial crisis.

— The Associated Press (@AP) July 5, 2015
Share +
The European Central Bank may be willing to keep emergency funding for Greek banks in place, Reuters reports. If confirmed, the decision would give Greek financial institutions a crucial lifeline in the coming days.
European Central Bank policy setters are likely to maintain emergency funding for Greek banks at its current restricted level, people familiar with the matter said on Sunday, following Greece's rejection in a referendum of bailout conditions.

Such a move would give Greek banks little time before they use up all of the roughly 89 billion euros of funding available and ensure that they remain closed for at least the coming days.

But it would avoid the drastic option of withdrawing existing support, a measure that would trigger their immediate collapse.
Read more here.
Share +
Economist Paul Krugman argues in the New York Times that Sunday's referendum does not only present a victory for Greek Prime Minister Tsipras, but for Europe as well.
I know that's not how most people see it. But think of it this way: we have just witnessed Greece stand up to a truly vile campaign of bullying and intimidation, an attempt to scare the Greek public, not just into accepting creditor demands, but into getting rid of their government. It was a shameful moment in modern European history, and would have set a truly ugly precedent if it had succeeded.
Read Krugman's full reaction here.
Share +
BBC News provides this helpful visualization of the vote:
With 60% of #Greferendum votes in, results show Greek voters rejecting terms of bailout http://t.co/LR8d14OaaB pic.twitter.com/I2od60vtuF

— BBC News Graphics (@BBCNewsGraphics) July 5, 2015
This entry passed through the Full-Text RSS service – if this is your content and you're reading it on someone else's site, please read the FAQ at fivefilters.org/content-only/faq.php#publishers.
Powered by WPeMatico
Share and Enjoy